Last week Naser Haghamed, CEO of Islamic Relief Worldwide, sat on the panel for Faith Week and also attended the Multifaith Advisory Council's celebration of the 75th anniversary of the United Nations. He shares his thoughts around the importance of interfaith work in tackling the challenges posed by the Covid-19 pandemic.
Last week I had the chance to share the virtual stage not only once, but twice. Both events saw key speakers promoting interfaith cooperation for tackling some of the most difficult issues in today's world.
I was very fortunate to take part in these events, especially given the fact that interfaith work has always been crucial for Islamic Relief. It has been particularly effective for our key programmes on protecting women and girls, capacity building for local faith actors and in building peace in war-torn communities.
The 75th anniversary of the United Nations
The first event I attended was the Multifaith Advisory Council (MFAC)'s celebration of the 75th Anniversary of the United Nations, which took place on 8 September.
During the event, Islamic Relief Worldwide and other organisations such as World Vision, Lutheran World Federation and World Council of Churches and Religions for Peace (RfP), come together to discuss the challenges we face in tackling the immediate threat of Covid-19.
We also discussed the difficulties we may face in achieving the Agenda for Sustainable Development 2030, and the ways in which interfaith work is key in working towards this.
As I sat with UN Women, UNICEF, UNFPA, World Vision and YWCA, I also had the honour of discussing how we can all move forward in ensuring better protection of women and children.
I highlighted the Gender Justice Declaration that Islamic Relief is pioneering – and the ways in which this bold initiative can be highly effective in ending gender injustices, as well as how it may form a model for other faith institutions to adopt.
Faith Week
Just two days later, I sat on the panel for Faith Week and discussed the challenges of Covid-19 with the CEOs of Christian Aid, World Jewish Relief and Quakers in Britain.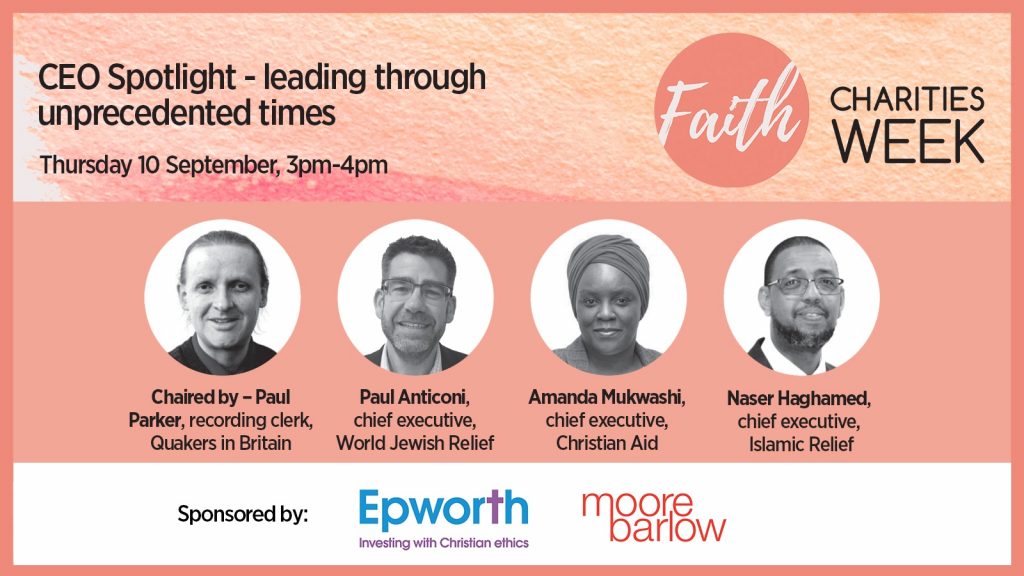 One of things that I have never been asked, nor had the opportunity to express, is how lonely it can be in my position as CEO. I must always appear to be in control and have confidence, in order for others to draw from this strength. The Covid-19 pandemic has been an unprecedented and extremely challenging time for leading an organisation as large as Islamic Relief.
One of the questions I was asked on the panel, was what had kept me awake at night during this pandemic. Truthfully, it was my worry for the people we support and how to ensure that we have the funding needed to keep our offices operating and our programmes running.
I quickly realised that all of the panellists had felt the same. It was faith that had kept us all going, and I found both solace and a sense of unity in this.
Amanda Mukwashi, Chief Executive of Christian Aid found comfort in prayers, and through communicating with her team often.
Paul Anticoni, Chief Executive of World Jewish Relief underlined how the Jewish community's togetherness during Covid-19 has shown that there has never been a more important time to illustrate the commonalities that different faiths share.
And Paul Parker, CEO of Quakers in Britain, summed up this notion of togetherness nicely: "There is a unique space that faith charities occupy – we as FBOs (faith based organisations) need to continue to use this space to talk about things that bind our communities together – relationships and helping those in need".
Increased collaboration is key moving forward
These two events really highlighted the beauty of interfaith cooperation. We have so much in common when it comes to the fight against inequality, eradicating poverty and tackling the effects of climate change. Through these shared goals, a natural bond is formed.
The most topical thing we have in common is our desire for changing behaviours when it comes to the long term threats linked to Covid-19. I strongly believe that through increased collaboration with other faith groups, we can help to combat these challenges together.
In particular, the long-term economic consequences of Covid-19 for already struggling communities will be vast and we need to work together to support these communities. Islamic Relief have started the recovery process through the launch of a socio-economic framework which we hope to adopt in order to tackle food and livelihood challenges.
Going forward, we intend to collaborate more with other interfaith organisations, as we have successfully done through many of our programmes such as Channels of Hope, Bridge Builders and CAR CIPP projects.
"We cannot afford to go back – when people lose trust, they lose trust in all of us, we need to restore high level of confidence in faith, and that faith moves mountains. We can do that together rather than individually", says Amanda Mukwashi.
I was refugee myself and I have lived through very difficult times and experienced a lot of the hardships that many of the people we help are facing. It was my faith that kept me going. Faith teaches us to be ethical, to stay strong and to do good.
It is time to recognise that faith has a massive role in helping to combat humanitarian issues and the scope for doing so is vast. This is especially true of interfaith work. We shouldn't be working alone, we need to collaborate.