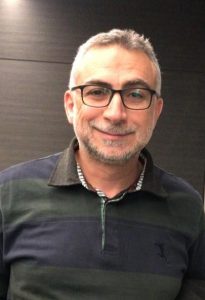 In the aftermath of the recent violence in Gaza, Islamic Relief Country Director Muneeb Abu Ghazaleh describes how he was affected by the situation, and reports on Islamic Relief's recovery plans over a month on from the ceasefire.
The latest escalation in violence in Gaza was the most stressful 11 days I have ever experienced.
I was extremely tense around the clock during this period, and there was no chance of rest. We witnessed the sounds of bombing and earth-shattering violence. News of places being destroyed, and lives being lost was relentless.
I felt deeply frustrated as a father that I was unable to keep my family safe, and deeply frustrated as a humanitarian worker that I could do nothing to stop the violence that was affecting so many around me.
Islamic Relief faced major challenges in responding to the emergency. Unlike other periods of violence that Gaza has witnessed, this time the whole city was crippled.
Humanitarian organisations struggled to help affected families and support essential services as the entire system had collapsed. It was heart-breaking to feel that we could initially do so little to help.
I am still suffering from the trauma and tension – I have little energy and stomach pains.
The current situation in Gaza
Thankfully, Islamic Relief was soon able to provide those affected with urgent food supplies, bedding supplies and medical aid.
However, border closures are making recovery efforts a challenge. These are impacting non-food items and construction materials which are paramount to rebuilding Gaza.
When you go out in Gaza City, you'll encounter at least one blockage in many of the major streets due to destruction of roads and buildings. As a result, it's making life even more stressful for those living here.
Destruction of offices, industrial buildings, shops and even carts has lefts thousands of people without a source of income. Many have also lost their homes.
Lives in Gaza have simply been devastated, and many feel worried and anxious about the future.
Islamic Relief's recovery efforts
The challenges we face as humanitarian workers are not new and are likely to continue for some time, so we have to be resilient and learn to adapt.
Every smile we return to a child's face makes us determined not only to continue to alleviate suffering and protect people's dignity, but also to do everything we can to  make things better.
Islamic Relief staff in Gaza are determined to help those affected to rebuild their lives.
We will be repairing damaged homes, as well as fixing healthcare facilities and schools, and providing them with the equipment they need to run smoothly.
We will also support special education centres and provide counselling to affected families. Our plans include supporting the repair of water systems so that homes are reconnected to water supplies, as well as expanding our existing projects in Gaza which are a lifeline for many people.
Hopes and fears for Gaza
My hope for the young generation in Gaza is for them to be able to enjoy their basic rights of free movement, gain a good education and contribute to the development of their community, and most importantly, that they can live in safety.
I also pray that those suffering with poor health are able to access decent health services without obstacles. It is agonising to witness those with severe illnesses face the fear of being unable to receive proper healthcare.
My fear is that more generations to come may be destined to live through this kind of deprivation and injustice.
Gaza has been described as 'the largest open-air jail in the world'. However, the reality is that life in Gaza often feels far worse than jail.
Even those in jail have access to electricity, a continuous clean water supply and the right to receive visitors. These are basic needs which innocent people in Gaza lack.
Those in jail have been justifiably sentenced to imprisonment. Those suffering in Gaza are innocent citizens, women and children. The injustice is unimaginable.
Humanitarian organisations are making enormous efforts and providing significant funding to support communities as a consequence of the situation in Palestine. However, for justice to prevail the international community must come together to deal with root causes of the problem. 
With your support, we will continue to do all we can to ease the suffering and to help make things better for the people of Gaza.
Help Islamic Relief to deliver vital humanitarian aid in the Occupied Palestinian Territory. Give generously to our Palestine Emergency Appeal now.