Ongoing conflict and climate-related issues are making daily life increasingly difficult in Mali. To make matters worse, health concerns related to poor sanitation are rife. Islamic Relief are running a project in the Circle of Gourma Rharous to help improve health, wellbeing, and livelihoods for vulnerable families.
Islamic Relief's project involves running awareness sessions in the community around good hygiene practices and how to combat the spread of disease. We are also supporting women and girls by creating gender-sensitive water, sanitation and hygiene services and building separate latrines for men and women. This helps to ensure better hygiene in the community while providing safe spaces for women.
We are also repairing water sources so local people have reliable access to clean drinking water, and helping to create new livelihoods in the area. We are working to build ponds and irrigation systems, so that agriculture is improved for the growth of crops and therefore better farming for workers in the community.
Fadimata's story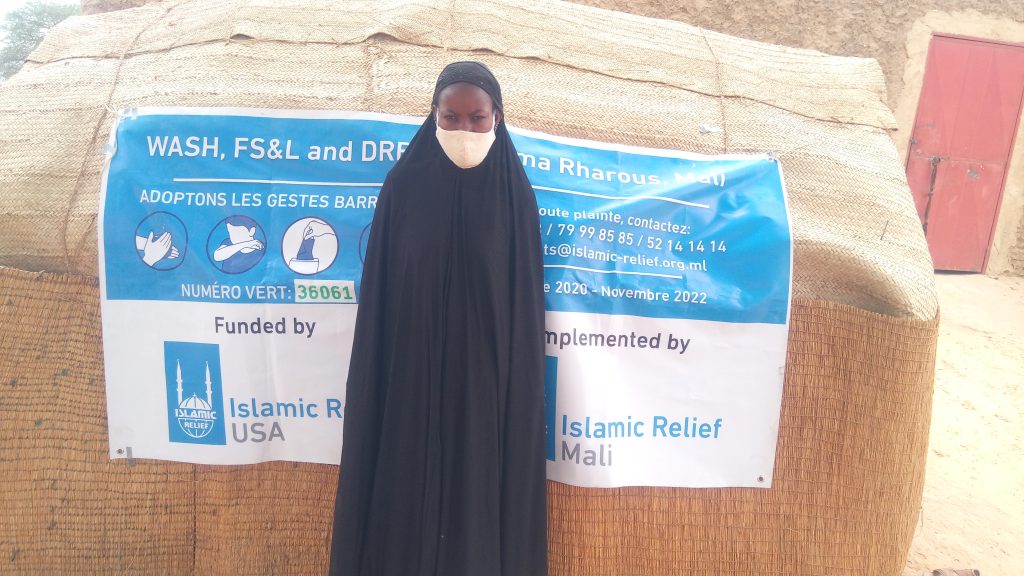 "I am a housewife living in Tourchawane, rural commune of Banikane," says Fadimata, 25. "I am the mother of a 2-year-old girl and a 5-year-old boy. My husband is a farmer and also has a small goat farm. I take care of the household.
"In our village, we have noticed that people frequently fall ill with malaria. Also, there is a great need for drinking water because there is only one water pump that is out of order. We are forced to resort to using the water from the river, which is not safe for drinking.
"Our community was unaware that a lack of hygiene and sanitation is the source of many diseases that we contract, such as childhood diarrhoea, malaria, stomach aches, colds and severe headaches.
"But with the start of the Islamic Relief project, we learned a lot about good hygiene and sanitation practices.
"In addition, Islamic Relief formed a village committee which is responsible for the promotion of hygiene and sanitation. I am a member. Members have been trained on their roles and responsibilities to develop action plans," she says.
Agaicha's story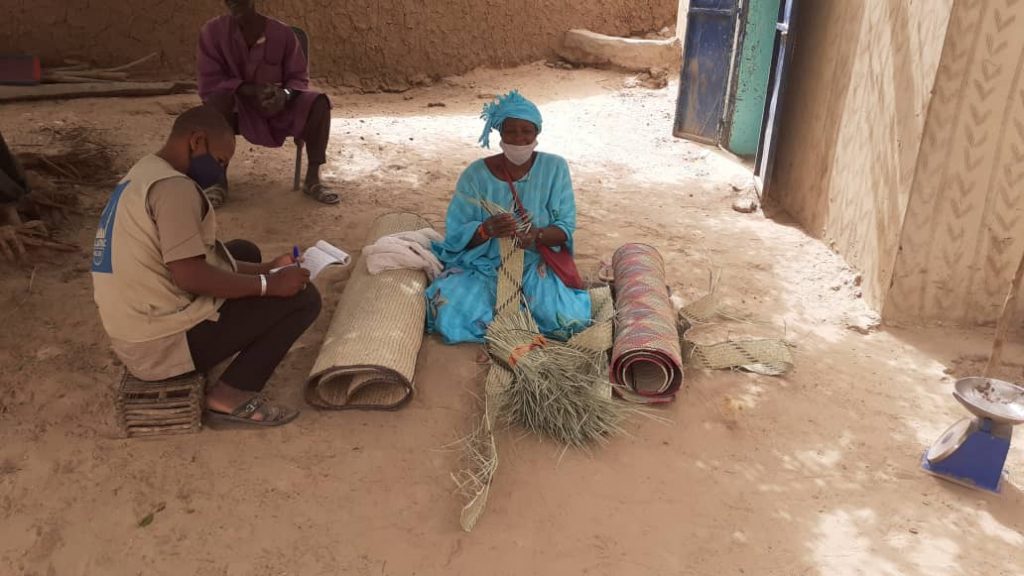 Agaicha, 45, is a housewife living in Sahamar, the rural commune of Rharous.
"With the high cost of living, I run a small business selling food products as well as handicrafts such as mats. It has been difficult to make the mats because the materials to make them are not easily available," says Agaicha.
"These activities allow me to generate a little income to support the household and provide for the education and care of the children. My husband is very old, and the children are too young to assist."
Mother-of-6 Agaicha set up her small business selling food and handicraft items when she could no longer support her family through agriculture.
"Agriculture alone is insufficient to provide for the needs of the whole family, due to low yields because of climate change. That is why part of my family decided to relocate in search of other livelihood options," she says, explaining that her 2 eldest sons now live in Senegal and send money home.
Today, hope is beginning to return to Agaicha because of the advocacy carried out by Islamic Relief. We have been ensuring that vulnerable groups, including women, have access to plots of land, with support to make the land more productive.
"This advocacy has been fruitful because the cooperative has granted me a plot of land, alongside 14 other women in my village who also live in precarious conditions. The land will enable me to produce enough food for my family – and when yields are high, I will be able to sell some produce to enhance my income," she says.
"The men wanted to oppose women being given land, so I would also like to prove to them that women with the means of production can work as hard as men and fend for their family. If both women and men work for their families, food security will be enhanced," she says.
Islamic Relief is helping women like Fadimata and Agaicha to improve their daily lives.
With your support, Islamic Relief can continue supporting vulnerable communities. Donate now.