"There is none amongst the Muslims who plants a tree or sows seeds, and then a bird, or a person or an animal eats from it, but is regarded as a charitable gift for him." (Bukhari)
Chechens living with visual impairments are reviving traditional farming culture by using their land as a source of livelihood. By providing the right tools, equipment and seeds, Islamic Relief is helping them plant trees, grow fruit and leave a legacy for their families.
More than 3,000 visually impaired people live in Chechnya and this project, which is part of our Life Opportunities for the Blind in Chechnya programme, aims to promote their social and psychological wellbeing. With the first stage focusing on healthy living and independence through sports and education, this phase encourages food security and self-sufficiency. Since the project began earlier this month, over 900 fruit trees have been planted in various parts of Chechnya.
By utilising their own gardens to grow trees independently, Chechens living with blindness will be able to play an active role in their community, reap the rewards of their labour for years to come and raise their self-esteem in the process. To increase the project's outreach and impact, those living in cities have been provided with horticultural land plots for gardening. The Islamic Relief team also provided an expert to offer advice and guidance on how to cultivate and maintain fruit trees, and supplied pesticides to keep their gardens thriving.
Across Chechnya, orchards with apples, pears, peaches, apricots, plums and cherries can be found as a testament to their self-sufficiency.
Daud and Rassul are among those taking part in the project.
Daud Usuphajiev, 49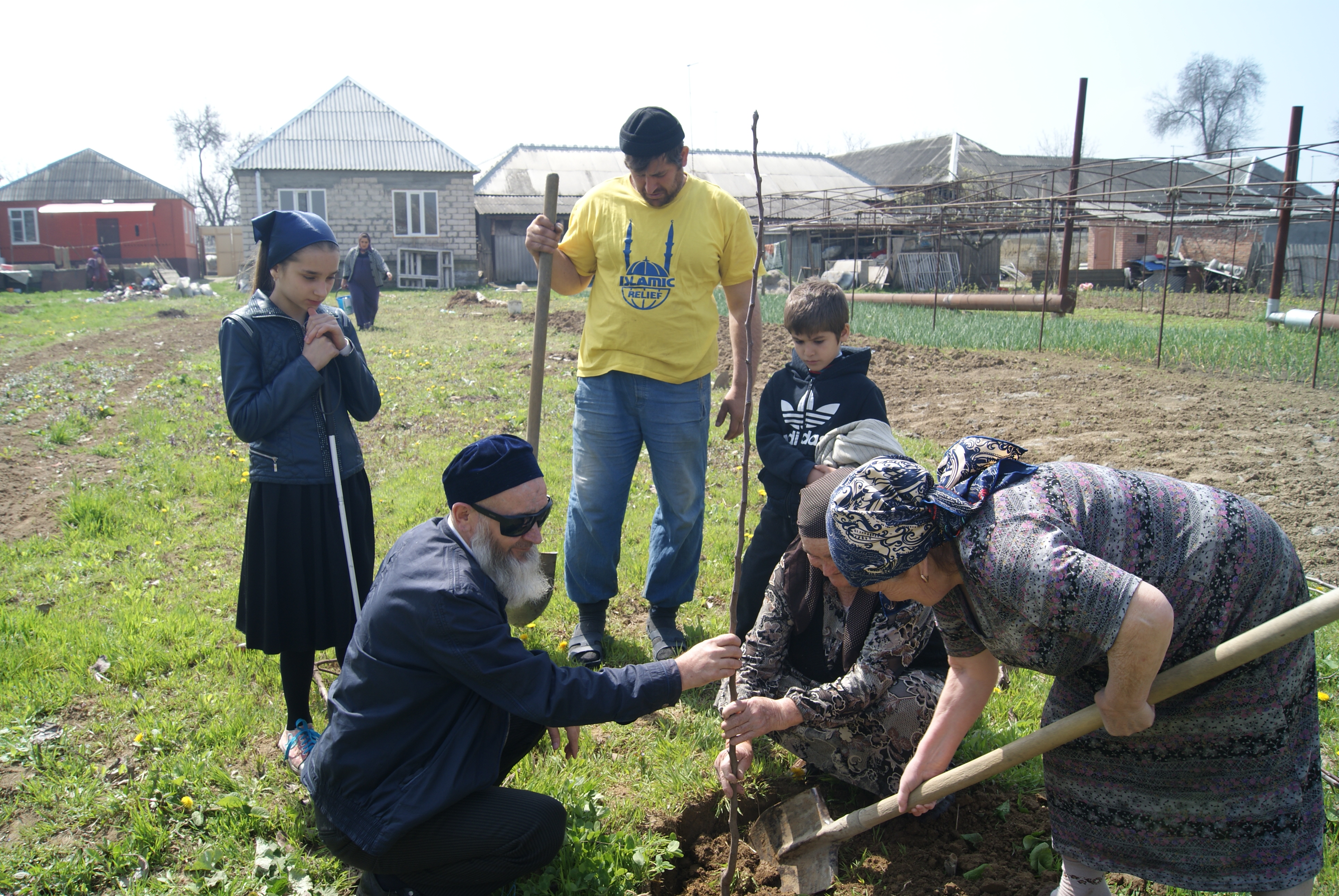 Accidentally stepping on a landmine changed Daud's life completely. Initially, Daud felt lost, with no hopes, dreams and ambitions, but his family were his driving force out of depression. Speaking of his children, Daud said: "Allah SWT took away two favourites of mine, but gave me ten instead."
So with the support of his loved ones, Daud entered the Psychology Department of Chechen State University and even wrote a thesis on the psychology of blind people. It was during this period, whilst reading specialised literature in Braille, that he realised the importance of overcoming difficulties by helping those in a similar situation. Daud now teaches children living with blindness how to read the Holy Qur'an using Braille.
Speaking of the project, Daud said:
"I have five children – four girls and one boy. We planted trees for each's favourite fruit; quince, cherry, apple, plum and apricot. We showed the children their trees and told them that they now had to look after them every day. It was great planting trees with my children and knowing that these trees will bear fruit for my family makes me very happy."
Rassul Gasiev, 10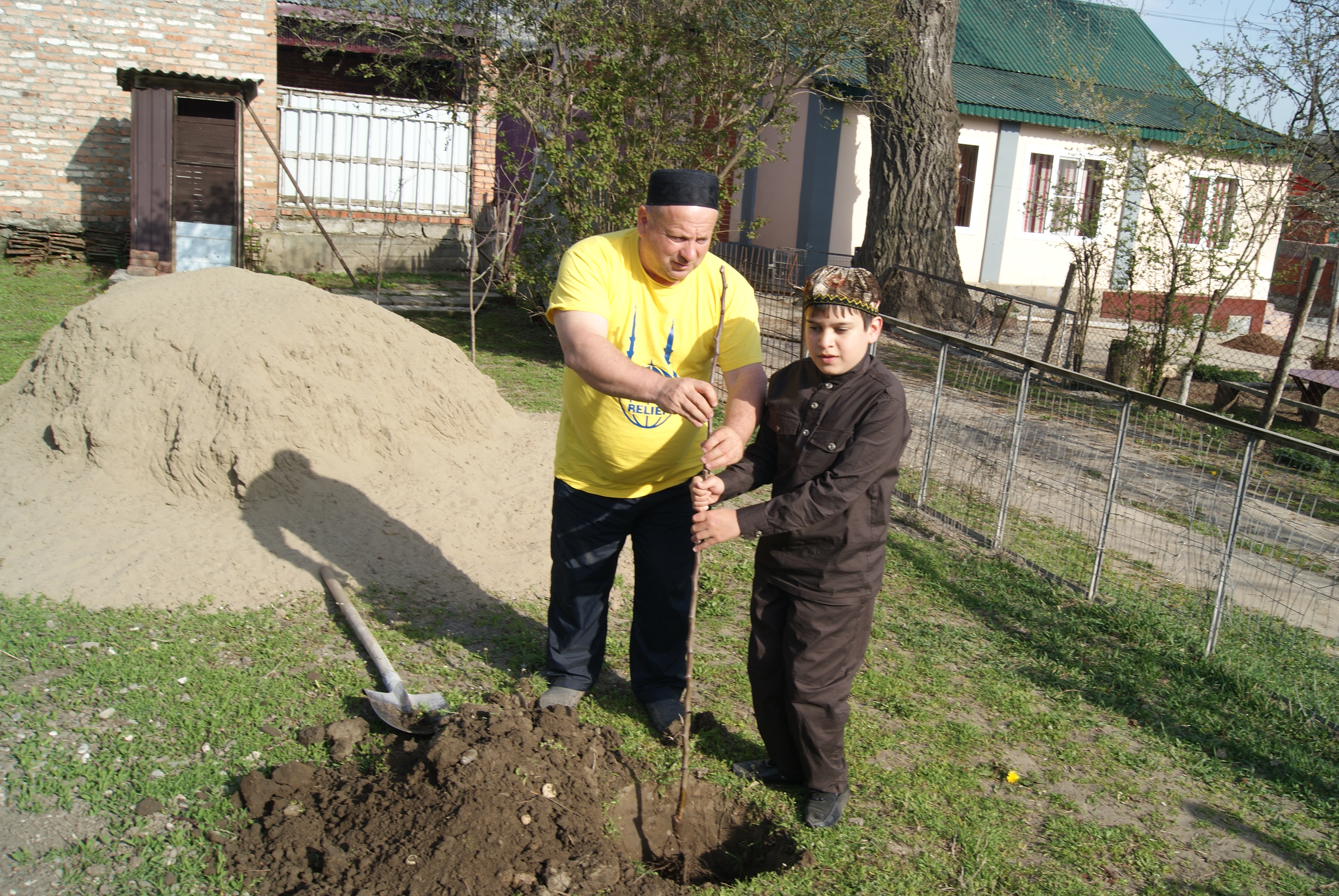 Childhood is a time of innocence, full of joy and laughter. It was at the tender age of three that Rassul lost the ability to see.
Although Rassul's world was now engulfed in darkness and uncertainty, he did not let it take control. Beginning with the Holy Qur'an, Rassul familiarised himself with Braille to be able to pray. A year later, alongside his native tongue, he could now read and write in Arabic using Braille. With over fifty surahs memorised from the Holy Qur'an and regularly reciting the adhan, the call for prayer, at his local mosque, Rassul continues to live a full and happy life.
Speaking of the project, Rassul said:
"I really enjoyed planting the tree as I have never done anything like this before. They explained the process to me, telling me that first leaves and blossoms will appear on the tree and, in two to three years' time, then fruit will grow, which I will give to my friends and neighbours as sadaqah (charity). In the meantime, my parents and I will water and nurture the tree so that it can grow with me."
Islamic Relief has been working in the North Caucasus region since 1995.