A Comprehensive Analysis of Inclusive Feedback and Complaint Handling Mechanism among People with Disabilities
People with disabilities face institutional and attitudinal barriers accessing and fully participating in the development and implementation of inclusive programmes including raising their voices, feedback and complaints. Islamic Relief promotes the rights of people with disabilities to fully and safely access and practice their right to complain on an equal basis with others. This report presents a revision of Islamic Relief complaints and feedback mechanism by Palestinian Disabled Persons' Organisations (DPOs) and provides recommendations that will enhance the inclusivity and effectiveness of those mechanisms.
Climate Induced Migration in Pakistan: Global discourse, local realities and governance
Pakistan is grappling with the worsening impact of climate change, causing increased migration and displacement across the country. This Islamic Relief research report examines one of the extreme consequences of climate change: climate induced migration. This study makes comparisons between popular global perspectives and local realities by studying incidences of movements in 3 distinct regions of Pakistan: Balochistan, Sindh and Khyber Pakhtunkhwa.
It delves in to the root causes of climate induced migration across the 3 provinces and shares insights into the perceptions and governance gaps to address migration issues across these areas. It includes specific recommendations and calls for the government of Pakistan as well international community to take swift action to address the worsening effect of climate change on migration patterns in Pakistan.
Tigray Refugees with Disabilities in Eastern Sudan Camps
People with disabilities are often left behind during humanitarian assistance. In cooperation with the International Disability Alliance, Islamic Relief Worldwide commissioned a report to document the needs of refugees with disabilities who have been affected by the armed conflict in Tigray, Ethiopia, and are living in camps in eastern Sudan camps. The research, which was carried out by two researchers with disabilities, highlights the persistent exclusion of persons with disabilities across all sectors. The report identifies barriers faced by persons with disabilities and provides practical recommendations to all stakeholders to ensure the protection of the rights of persons with disabilities during armed conflict.
Adapting to instability
Aiming to add to the conflict-climate nexus discourse, this report focuses on examining how conflict and climate change influence land and water disputes between farmers and pastoralists in north and central Mali. Developed from data collected during the context and protection analysis as well as data from ACLED, the report unpacks the root causes of intercommunal violence between farmers and pastoralist. The report contains calls, among others, to the international community to promote conflict sensitive adaptation in fragile-conflict-prone contexts and to support locally led adaptation initiatives to promote ownership and regional partnerships.
A review of the triple nexus approach in discourse and practice
The Triple Nexus has been presented as a way for the international aid and development sector to more effectively tackle the inter-connected risks and needs of vulnerable people. It builds on existing work to link humanitarian and development programming by bringing in the peace component, recognising that much of our work is delivered in places with underlying tensions or outright conflict. Islamic Relief has piloted a triple nexus approach to programming. This report reviews the learning from that programme and from continuing debate in the sector.
Combining traditional, formal and NGO peacebuilding to resolve violent rido in Maguindanao
Inter-clan conflict (rido) is the most worrying form of violence for local communities in Maguindanao (southern Philippines), surpassing conflict between armed separatist groups and the Philippines state and threatening peace and stability in the region. Traditional practices of conflict resolution are often used to address rido disputes, culminating in traditional peace ceremonies. Islamic Relief's Conflict Prevention and Peacebuilding Programme in the Philippines has supported community-led peacebuilding by women and youth between 2018 and 2021, which interacts with traditional rido resolution processes. This case study examines a recent rido in Maguindanao, shedding light on a clan conflict over political-economic power and its eventual resolution involving youth peace groups supported by Islamic Relief.
A gendered analysis on Cash for Work programming in Hudayda
The Cash for Work programme in Yemen focuses on the Food Security and Livelihoods (FSL) and WASH sectors to build upon Islamic Relief Yemen's previous programming and work with local communities in the targeted areas of Hudayda and Lahj. This study aims to assess the inclusion and participation of different community members in Cash for Work programming in the FSL sectors in Hudayda. The study aims to understand participants' needs and the most effective methods of inclusion and to identify any barriers in the participation of different community members, to learn lessons and identify best practice for future humanitarian programming in Yemen.
Analysing and documenting learning from South Sudan Integrated Emergency Response in Western Bahr El-Ghazal (WBeG) and Central Equatoria (CE)
The "integrated emergency response in Western Bahr El-Ghazal (WBeG) and Central Equatoria (CE), in South Sudan" is a 1 year project funded by Islamic Relief Sweden and SIDA. This learning paper provides an overview of the project's protection programming approaches and captures some of the best practices used in programme implementation. It presents some of the key findings on protection and gender mainstreaming in service provision, gender-based violence (GBV) prevention and response, and human resources procedures and gender balanced team in Islamic Relief South Sudan. It also provides a set of recommendations for mainstreaming gender and protection in future programming.
From Violence to Dialogue: Youth-led dispute resolution in Pakistan
Islamic Relief supports community organisations and youth groups in fragile areas of Pakistan to manage community social cohesion, reconstruction of damaged water infrastructure and livelihoods. After receiving dispute resolution training from Islamic Relief, one youth group successfully negotiated a resolution to a decades-long, violent inter-tribal dispute about access to land and a coal mine. This case study explains how the negotiation process worked in practice, illustrating how transformative Islamic Relief's support for locally-managed social cohesion can be.
SIDA Conflict Prevention and Peacebuilding Programme Case Study
In insecure places, people need reliable information from trusted sources about security issues, disaster risks, upcoming elections and other topics that might cause a rise in local tensions. Many people get this information from listening to the radio.
Islamic Relief has been supporting the use of local radio to address conflict issues and promote peace in Kenya. This case study explores how radio for peace works in practice.
Sexual and Reproductive Health and Rights policy
Sexual and Reproductive Health and Rights (SRHR) are integral to making progress in social and economic development and justice.  This publication explains how effective SRHR policies and programmes can help combat maternal and new-born mortality, as well significantly improve health and wellbeing, especially for women, children and adolescents.
The publication provides a theological analysis of the different Islamic positions on sexual and reproductive health issues. It also explains Islamic Relief's stance on the matter, describing how the organisation provides demand- driven humanitarian aid.
This stance policy seeks to ensure that Islamic Relief effectively meets the SRHR needs of the communities it serves, in a way that fulfils our faith-inspired mandate.
Socio-economic recovery framework for the
Covid-19 crisis
The Covid-19 pandemic has both a direct health impact but also and increasingly so indirect socio-economic impacts. This recovery framework proposes a multi-year strategy and roadmap to help people and communities disproportionately impacted by the pandemic. It highlights the need for integrated, inclusive and market-aware interventions from the outset for a speedy return to longer term development.   
The framework identifies three broad strategies towards socio-economic recovery, namely: 1) protecting livelihoods, 2) rebuilding livelihoods and 3) enhancing livelihoods – all of which need to be considered for existing and new programmes and coordinated with all relevant stakeholders. It also highlights key principles, standards and sample key actions that can guide potential socio-economic responses.  
Our Covid-19 crisis response underpins the importance of bridging the humanitarian and development nexus to rebuild inclusive and resilient livelihoods, support critical market systems and save lives.  
SIDA Conflict Prevention and Peacebuilding Programme Case Study
This document highlights Islamic Relief's Triple Nexus approach and how it helps communities achieve sustainable, inclusive peace as a basis for human security with focus particularly on excluded groups in society such as youth and women,. The document also includes case studies on how Islamic Relief is investing in the peacebuilding capacity of youth in Pakistan, Kenya, Indonesia and the Philippines as part of a holistic package of support to fragile communities. While the contexts in each country are different, there are some commonalities in Islamic Relief's approach.
Lessons from Islamic Relief Worldwide's inclusive and protective programming approach – the 6As approach – Learning Paper 3:
This paper focuses on approaches, lessons and recommendations for Islamic Relief and other INGOs to improve mainstreaming protection and inclusion efforts in development and humanitarian programming. It aims to advance understanding and best practice in protection and inclusion through critical reflection on Islamic Relief's inclusive and protective programming approach. It draws on the experience of eight countries in addressing issues of inclusion, protection and sensitive approaches to accountable programming and considers learnings and challenges.
Synthesis of current good practice towards inclusive complaints and feedback mechanisms:
This synthesis, part 1, provides a review of good practice in the sector in relation to establishing inclusive complaints mechanisms. It examines selected agencies' approaches to strengthening inclusion of at-risk community groups, particularly those who are discriminated against due to their age, disability, gender, ethnicity and other forms of marginalisation. It focuses on the inclusion of at-risk groups within activities relating to commitments 4 and 5 of the Core Humanitarian Standard and, specifically, the establishment of inclusive complaints mechanisms.
Examining barriers to complaints mechanisms for at-risk communities – Synthesis Part 2:
This paper is the second part of the synthesis of current good practice towards inclusive complaints and feedback mechanisms.  It provides a review of Islamic relief's practices at a country level. It also identifies key elements to successful approaches to inclusion and common challenges, to stimulate wider learning and improvement at a global level within Islamic Relief and in the wider sector.
Achieving gender justice: An Islamic Relief Review
This report is a summary of a comprehensive analysis of Islamic Relief's gender and gender-based violence (GBV) related activities and programmes from 2017 to 2019 (inclusive). It uses the framework of IRW Gender justice Policy, SDG5 on gender equality and the Islamic Gender Justice Declaration. The main purpose is to document our gender and GBV related activities to inform projects, policy and advocacy development throughout the organisation; support Islamic Relief's gender justice commitments; and inform the development of systems, policies and processes to advance Islamic Relief's effort to achieve gender equality.
Introduction to Peacebuilding
This introductory guide to peacebuilding for Islamic Relief staff introduces basic concepts as well as Islamic approaches to peacebuilding. It explains Islamic Relief's holistic approach to inclusive and sustainable community-based peacebuilding. The guide offers many practical examples from Islamic Relief's own projects around the world and directs the reader to external blogs, video clips and many other excellent resources for peacebuilding practitioners which complement Islamic Relief's approach.
Palestine Youth Report
This report is the result of a research carried out by Islamic Relief's Global Advocacy division in collaboration with Islamic Relief Palestine. The report highlights the complex factors influencing youth unemployment in Gaza Strip with specific focus on socio-economic impact, mental health and education. The report highlights specific calls to action to diverse range of stakeholders that are integral to providing a long-term solution to the rising youth unemployment issue in Gaza Strip.
Gender-based violence against women and girls in Gaza protection and inclusion framework
This study looks at gender-based violence (GBV), in particular domestic and intimate partner violence (IPV) perpetrated against women from across Gaza. It focuses on the experiences of widowed, abandoned, single, married and remarried women and, in particular, those of beneficiaries of three Islamic Relief Palestine programmes: Enhancing Economic Empowerment, Recovering Wellbeing of Children, and the Orphan Sponsorship programme. Drawing on their experiences, the study identifies a range of forms of violence against women and girls (VAWG) that are prevalent in Gaza. It makes a series of recommendations to inform future GBV prevention and response strategies for humanitarian actors in Gaza.
Gendered impact and implications of Covid-19 in Iraq:
Women and girls have been negatively impacted by Covid-19 and measures to restrict transmission of the disease, most notably through experiencing an increased burden for managing the household, reduced financial income and increased violence at home during the lockdown period. This report provides a summary on the impact of Covid-19 on women and girls in Iraq through analysis of surveys conducted in Baghdad and Al-Anbar governorates. It highlights some of the protection risks women and girls face and provide suggested recommendations to strengthen gender-based violence service provision.
Adapting for Climate Justice
This is about how Islamic Relief is working with the people most affected to respond to the climate crisis.  We show how in empowering communities, families and individuals to emerge out of poverty and suffering, they are better able to adapt to the challenges they face now and in the future.  In the climate emergency, locally-led community based adaptation brings justice to those who have the least.  'Adapting for Climate Justice' shows how Islamic Relief is making this a reality.
Context and Protection Analysis of Central and Northern Mali
Islamic Relief Mail and Save the Children Mali will be holding a workshop on  7th of August 2020 to present the findings of a Context and Protection Analysis undertaken in hard-to-access areas of Northern and Central Mali, specifically in the Circle of Gourma Rharous, Region of Timbuktu and Circle of Douentza, Region of Mopti.
Funded by the START Network, the analysis intends to contribute to informed programming of humanitarian actors in Northern and Central Mali, particularly in ensuring context sensitive and gender sensitive approaches.
​
Covid-19 MENA-EE Regional Impact Analysis Report
The Covid-19 risk is far from over, with concerns about a potential second wave of the pandemic. Many countries in the Middle East and North Africa (MENA) and Eastern Europe (EE) regions face a double crisis as their economies are already fragile due to ongoing humanitarian crises.
Islamic Relief, guided by the principle of 'do no harm,' is ensuring the inclusion of marginalised people and those at most risk of being left behind. Our Covid-19 response is three pronged:
1. Community engagement for promoting good practices and information (including faith leaders and children as agents for change)
2. Supporting and strengthening health systems
3. Ensuring the longer term and secondary impacts are factored in from the outset
DOWNLOAD/VIEW PUBLICATION
Islamic Relief is delivering more than $10 million through our Covid-19 response programme, already reaching more than 3 million people in 20 countries.
This report, updated with our key responses to date, highlights the way in which Islamic Relief partner offices are helping vulnerable communities in the west – where the pandemic has had the greatest impact – as well what we are doing to help key priority countries in Asia, Africa and the Middle East, which remain most at risk.
Our three approaches are:
1. Community engagement for promoting good practices and information
2. Supporting and strengthening health systems
3. Ensuring the longer term and secondary impacts are factored from the outset
Islamic Relief's global response is further supported by our existing partnerships and programmes in the field which we are adapting to better support national response plans and meet local needs.
DOWNLOAD/VIEW PUBLICATION
Learning paper 1, Leave no one behind in humanitarian programming: An approach to understanding intersectional programming
This paper outlines a new approach to intersectionality piloted by Islamic Relief over a two-year period. The aim of the pilot is to better understand the intersection of different dimensions of social disadvantage and its implications for the organisation's humanitarian work.
Learning paper 2, Leave no one behind in humanitarian programming: Lessons from five countries
This brief summarises Islamic Relief's learnings from piloting a new intersectionality framework in five countries. The learnings relate to how Islamic Relief can achieve more inclusive and sensitive humanitarian programming.
Stigma and discrimination faced by people with disabilities returning to the Federally Administered Tribal Areas of Pakistan
This report documents research by Islamic Relief to understand stigma and discrimination faced by people with disabilities (PWD) returning to live in the Khyber Agency of the Federally Administered Tribal Areas of Pakistan (FATA).
It sets out the context within which the research was conducted, a summary of the findings, the research project and results, and finally recommendations arising from the research.
DOWNLOAD/VIEW PUBLICATION
A faith-sensitive approach in humanitarian response
Guidance on mental health and psychosocial programming
As part of our on-going partnership, the Lutheran World Federation and Islamic Relief Worldwide began to work in 2016 on the development of A faith-sensitive approach in humanitarian response: Guidance on mental health and psychosocial programming.
We hope A faith-sensitive approach in humanitarian response: Guidance on mental health and psychosocial programming will be a useful tool across all sectors of humanitarian response. Psychosocial support is a logical entry point for looking at faith identity, but precisely because it takes an inter-sectoral approach, it enables this tool to provide insights on how to take faith identity seriously across all sectors.
Justice and Protection for Refugees
Building on the UN's Global Compact

Islamic Relief has been responding to forced migration crises since our inception. We are now working to meet the needs of refugees, internally displaced people, asylum seekers and returnees in 26 countries. We have developed partnerships with numerous governments and key institutions, notably the United Nations; in 2013, Islamic Relief was listed as one of the United Nations High Commissioner for Refugees' (UNHCR) top ten international implementing partners.
This briefing seeks to encourage the international community to make more effective progress towards these goals and to ensure the Global Compact protects and enhances the rights of refugees around the world.
Download/View Publication
Climate Change Policy (2019)

This states Islamic Relief's Climate Change Policy, revised for 2019.  As a moral, social and environmental issue, climate change demands an urgent and global response and change on an unprecedented scale. Limiting warming to 1.5°C is the most effective way to use resources, with more investment where the consequences of climate breakdown are already being felt: in disaster risk management, adaptation and resilience building, and addressing loss and damage.
Download/View Publication
Climate Change Policy: Understanding & Responding

This contains Islamic Relief's Climate Change Policy for 2019, and also background on understanding and responding to  the climate crisis. It outlines recent global developments, Islamic Relief's positions on loss and damage, finance, disability, gender, conflict and biodiversity, and the contribution of Islam to meeting the climate challenge.
Climate Champions
"We are in danger of ending life as we know it on our planet"
Islamic Declaration on Climate Change
Islamic Re
lief has raised over millions in the last three years to address issues related to climate change. This review sets out the challenges and describes Islamic Relief's most recent interventions. Climate Champions highlights how communities are working with us to adapt to climate change and build resilience, including efforts to reduce the risk from future shocks. It also captures why Islamic Relief is vocal on climate change and climate justice issues, and how we are campaigning to reduce emissions, promote sustainable living and protect the most vulnerable.
Download/View Publication
Stories from Afar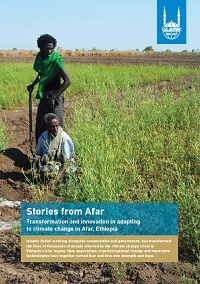 Islamic Relief, working alongside communities and government, has transformed the lives of thousands of people affected by the climate change crisis in Ethiopia's Afar region. This paper illustrates how new approaches, transformational change and innovative technologies have together turned fear and loss into strength and hope.
Child Protection Policy
Islamic Relief believes that all children have a right to personal dignity and protection from abuse, and recognises the special responsibility and duty of care it bears to create a safe environment for children within its projects and programmes. This policy is a comprehensive guide for all Islamic Relief staff to ensure that the vulnerable children we work with are protected at all times. It includes sections on recognising signs of abuse; organisation and field office responsibilities; partner organisation responsibilities, and communications about children.
Download/View Publication
Integrating Protection: An Integrated Approach to Gender-Based Violence and Child Protection
This document summarises key lessons from integrating Gender Based Violence and Child Protection activities into humanitarian programmes in Mali, Niger and Pakistan. It documents best practice examples and evaluates strategies that worked best based on the different contexts. It also highlights several case studies and provides recommendations for donors, partner organisations and other stakeholders.
Download/View Publication
Global Strategy 2017 – 2021
Islamic Relief is evolving. Our new strategy shares our vision, mission and values and highlights the four global goals guiding our work towards 2021.
Download/View Publication
Annual Report 2016

Islamic Relief Worldwide Annual Report 2016 is published today, highlighting our humanitarian, development and advocacy work around the world, as well our financial statements for the year.
Annual Report 2015
Thanks to our donors and supporters, between 2015 and 2016 we helped 8.3 million people across the globe.
Download/View Publication
Welcome to Islamic Relief

Who we are and what we do
Islamic Relief is an independent humanitarian and development organisation with a presence in more than 40 countries around the globe. We have been fighting poverty and injustice since 1984. Every year, our work helps millions of the world's poorest and most vulnerable people – regardless of race, political affiliation, gender or belief.
Download/View Publication
Working in Conflict: A Faith Based Toolkit for Islamic Relief
Islamic Relief works with communities to build resilience and reduce risk in future conflicts. Our values are rooted in Islam, and our identity as an Islamic-based organisation can help us connect with and gain the trust of vulnerable Muslim communities. This toolkit draws on current knowledge and best practice across the field, but approaches each area of work from an Islamic perspective. It also suggests how the reader might conduct programming in conflict-affected contexts on that basis.
Download/View Publication
Understanding an Islamic framework for peacebuilding
This working paper explores the broad ethics and Islamic teachings on avoiding violent conflict at a community level and explores how these can be used to promote sustainable systems of conflict resolution and peacebuilding within the communities where Islamic Relief works.
Download/View Publication
Gender Justice
This document focuses on the central components of IR's Gender Justice Policy based on an Islamic framework. It outlines the organisation's commitments to gender justice in all our humanitarian, development and advocacy work and our internal processes and procedures. Standing up for gender justice is a priority for IR because of its centrality to upholding human dignity, which is at the heart of everything we do.
Download/View Publication/English
Download/View Publication/French
Download/View Publication/Arabic
Hidden in Plain Sight: A Study of Child Labour and Human Trafficking in Rautahat, Nepal
This report is the result of a research carried out by Islamic Relief's Global Advocacy division in collaboration with Islamic Relief Nepal, Islamic Relief Sweden and Rural Development Centre. It assesses and highlights the complex factors that underpin trafficking and child labour in Rautahat District in Nepal. The report highlights specific calls to action to diverse range of stakeholders that are integral to the global fight against trafficking and child labour.
An Islamic Human Rights Perspective on Early and Forced Marriages
This background paper explores the issues of early and forced marriage from an Islamic faith perspective and dismantles some potential misconceptions. It provides a case that early and forced marriage is not Islamic and promotes the protection of children and the sanctity of marriage.
One Cut Too Many: Islamic Relief Policy Brief on Female Genital Mutilation/Cutting (FGM/C)
This policy briefing provides an introduction to Female Genital Mutilation/Cutting, its effects and underlying causes. It provides an Islamic faith perspective and explains why this harmful practice has no basis in Islam. It promotes the organisational approach to tackling FGM/C and key recommendations.
Don't Force Me! A Policy Brief on Early and Forced Marriage
This policy briefing presents Islamic Relief's position on issues of early and forced marriage, the key definitions, causes and impact of these practices. It presents briefly our strategy to end EFM and provides a summary of an Islamic human rights perspective on these issues.
Lessons Learnt from Somalia Region State of Ethiopia: Combating Gender-based Violence Against Women and Girls in Dekasuftu Woreda
This learning report shares key lessons learnt from Islamic Relief's pilot GBV project in the Somali region of Ethiopia. It shows evidence of how engaging faith actors and faith inspired action against GBV is an effective community-based methodology to end all types of GBV, and can help dismantle cultural and religious misconceptions.
The Rights of Forced Migrants in Islam
This paper provides an overview of the Islamic teachings related to the rights of people forced to leave their homes. Islam has a strong heritage of forced migrant protection, stemming from the original teachings of the Qur'an, as well as from historical examples taken from the lives of great Prophets. This heritage includes strong commands on the importance of seeking refuge if one is facing persecution, as well as on the duty to provide asylum to those who need it.
Download/View Publication
An Islamic Perspective on Human Development
This paper relies on the primary sources of knowledge in Islam to identify the key principles and core values that underpin Islamic views on development, poverty reduction, human rights and advocacy, and offers some tools and approaches to address them.
Download/View Publication
Islamic Relief Worldwide's Integrated Sustainable Development Programme
Integrated Sustainable Development is a multidimensional approach covering all facets of life (material, non-material and spiritual). Islamic Relief uses this holistic approach to lift communities out of poverty and suffering.
Download/View Publication
International Islamic Climate Change Symposium (2015)
The world's first unified Islamic declaration on climate change.
The Islamic Declaration on Climate Change, adopted in August 2015, represents broad unity among Muslim leaders and presents a compelling call for humanity to meet its moral and spiritual obligations as stewards of the Earth.
Download/View Publication
Islamic Relief: Syria Response 2016
Our response to the crisis over 12 months
Our latest annual report from Syria shows that last year alone Islamic Relief supported more than 3 million people across Syria and neighbouring countries Iraq, Jordan and Lebanon.
With more than half of the Syrian population having fled their homes and 13.5 million people in desperate need of humanitarian support, Islamic Relief's Syria response in 2016 totalled £43.5m
Download/View Publication
Syria Conflict: Our work since the crisis began (2015)
How we have responded to the conflict
When conflict broke out in Syria in 2011, people began to flee their homes in search of safety for themselves and loved ones. Four years on, millions of families have been uprooted in what is one of the world's worst humanitarian disasters. Our work has reached more than 7 million people, who have lost their homes and livelihoods as a result of the conflict.
Download/View Publication
Palestine Conflict: One Month On (2014)
The impact of the crisis and our work on the ground so far
Since the conflict began, more than 1,900 Palestinians – including women and children – have died and hundreds of thousands have fled their homes. Over 1.5 million people are without reliable access to basic services and the public health system is close to collapse. Up to a quarter of the population has been displaced and many homes destroyed. Islamic Relief is on the ground in Gaza, delivering vital humanitarian aid.
Download/View Publication
Islamic Relief Global Strategy 2011-2015

How we aim to fulfil our duty to mankind, and ultimately, to God
For Islamic Relief, there is no greater priority than ensuring our work has the greatest positive impact on the people we serve. Our Global Strategy 2011-2015, outlines how we put our faith into action to bring about real social change.
Download/View Publication
Eight days in Gaza (2012)

The impact of the conflict
The conflict of November 2012 has had a devastating impact on the people of Gaza. With 163 killed, 1,200 injured, thousands displaced and significant damage to infrastructure over a period of eight days, the effect of the bombardment has been catastrophic in this densely populated territory where most of the population were already dependent on humanitarian aid for survival.
Download/View Publication
Haiti Earthquake (2012)

Two years on
On January 12, 2010, a powerful earthquake struck the Caribbean nation of Haiti. Over 200,000 people died and 1.5 million were made homeless. Islamic Relief – one of the first international organisations on the ground in the aftermath of the disaster – sets out the shift from emergency relief work toward recovery and securing stability.
Download/View Publication
Integrating GBV in WASH toolkit: Lessons from Yemen
This toolkit acts is a practical guide to mainstream gender-based violence prevention activities in water, sanitation and hygiene (WASH) programmes. It supports programme staff to assess commitment to the minimum humanitarian action standards in each programme's life cycle. It summarises the "dos and don'ts" and shares tips for best practice based on our experience in Yemen.
Download/View Publication
Gender, Religion and Humanitarian Responses to Refugees
This policy brief, edited by Elena Fiddian-Qasmiyeh of UCL with contributions from Sharifa Abdulaziz (Islamic Relief Worldwide) and Helen Stawski (Islamic Relief UK), examines the intersection of gender, faith and refugees, aiming to deconstruct some of the assumptions that underlie humanitarian approaches to them.
Download/View Publication