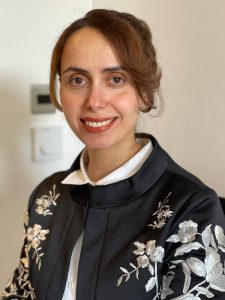 Islamic Relief's Najah Almugahed shares her experience of working as a gender, inclusion and protection advisor with a faith-based organisation, and the impact that it's had on her professional and personal identities. Responding to an article as part of the Joint Learning Initiative academic learning group, she explains how her personal faith and values give her work a unique perspective. 
The article, 'Can Religious Women Choose? Holding the Tension between Complicity and Agency', argues the importance of understanding religious women's agency by separating the analytical feminist framework from the political one.
The analytical framework helps to understand actions from the perspective of the doer, whereas the political strives to bring change for the betterment of women.
It speaks to me personally, as a Muslim, as a feminist and as termed in the article, "a practitioner in the international development circles".
Being Muslim
The article questions whether religious women are complicit to antifeminist practices, due to their "devotion to religion that could possibly decree subjugation". We normally refer to Muslim women as one homogenous group that have similar beliefs and practices.
However, identifying myself as a Muslim doesn't mean that I represent the 1.8 billion Muslims around the world with their diverse interpretations of culture and religion. Nor am I able to understand the personal religious motives and cultural influence that defines their gender relations. It is important for me to be aware of my own position, my own internal biases, and my own way of viewing the world, and separate that from analysing my surroundings.
Therefore, we must advocate for an intersectional approach to gender equality. We must recognise the different factors within our identities that shapes our beliefs, practices and needs and the ways in which these intersect.
Here at Islamic Relief we have worked on expanding traditional gender analysis to cover age, and disability inclusion to ensure that "no one is left behind", and to capture the unique experiences that diverse women face within crises. It also helps to genuinely understand gender, religion and culture as deeply intertwined sources of influence.
Being a feminist
There is widespread debate around whether being a Muslim and a feminist is, by definition contradictory, or whether they can co-exist. I think there is an equal responsibility on religious and feminist scholars to find that middle ground. As the saying from Rumi goes, "out beyond ideas of wrong-doing and right-doing there is a field. I'll meet you there".
Feminism as a movement to advocate for social, economic and political equality for women is stigmatised for being western, white-centric and in some cases secular and anti-religious.
I think it is extremely important for us to reclaim the definition of feminism and broaden its parameters to include our religious values, which call for social justice.
Here at Islamic Relief, we try to change the discourse to show communities we work with that women's rights are fundamental to the teachings of Islam, and that the two are intertwined.
We often work with faith and community leaders to become advocates for prevention of gender-based violence and child abuse, seeing their important influence as a gateway for change.
Being a humanitarian practitioner
Islamic Relief is committed to respond to humanitarian crises and operates in challenging environments where advocating for gender equality is not always of highest importance among communities. It's important to take into consideration these views, while balancing this with the inclusion and protection of all community members.
We recognised that we had to explain "gender equality", which is a conceptual and culturally influenced term, by developing organisational policies and position papers around gender justice, early marriage, FGM/C, sexual and reproductive health, amongst others. These papers unify our global presence and clearly state our position around those issues.
We have also been spearheading an "Islamic gender justice declaration" by launching a global consultation with faith leaders (men and women) to bring together mutual calls to action in the Muslim world. It is bringing together not only faith-based organisations, but also other actors in the international development sphere.
As faith is an important element in people's lives and identities it cannot be ignored by practitioners pursuing gender equality across the globe. As a faith-based organisation we are uniquely placed to help bridge the gap between international development practitioners and faith or religious institutions. We plan to continue building on our influence in this space to help create positive change among communities.
From my perspective, I think you definitely can be a Muslim, a feminist and a humanitarian practitioner. These 3 identities are far from being mutually exclusive. Rather, they are deeply intertwined. Finding that middle ground that Rumi was talking about is important, and I hope we all find that place in our hearts and lives.